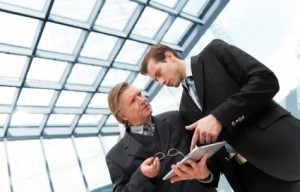 As entrepreneurs, we've all had to face the threat of financial downfall. You're no longer relying on the comfort of a consistent paycheck to get you the things you need, to pay the bills, to buy the food, or to put gas in the car. So many of us are out only for ourselves in terms of product and business development. Often times, that means fighting with competitors rather than working with them. Believe it or not, that's the exact opposite of what you should be doing. Learning to work with your competitors opens you to more ideas and resources that would not have been available otherwise. That's not to say that you should copy exactly what your competitors are doing. Instead, see how you can build up your own ideas given the experience of others.
Perhaps your competitor can offer you some insight on things that are working for them, but you may be having trouble with. Or maybe they can share with you information on resources and suppliers. If you try to look for ways in which your business can help your clients rather than ways in which it can help you and your affiliates, it will be easier to get past the idea that you're hurting your own business by helping another, and both businesses will come out stronger.
And your potential clients and customers will notice. They'll see that you have formed this partnership to come out with better products and services. They'll see that you're looking out for them rather than just for yourself, and that will make them want to bring you their business. Rather than looking at competition as something to be avoided, look at it as potential for new partnerships and better business. Doing this is just one way that you'll move further away from that threat of financial downfall and closer to achieving success.
Listen as host Jill Schiefelbein and Adrianne Lynch, Director of Economic Development for the Gilbert, Arizona Chamber of Commerce, discuss competition (skip to 21:54) and involvement in professional associations in this episode of Communication Nation: Communication and Community Relations.
Written by Impromptu Guru Director of Operations, Christina Miller.