Dynamic communication.
Powerful results.
Communication is everywhere, but do you know how to effectively communicate? Impromptu Guru is a company whose focus is to make you a more effective communicator.
Whether you're communicating to an audience of one or an audience of thousands, understanding how to capture your audience's attention, deliver a dynamic message, and present yourself with confidence are integral skills in today's competitive marketplace. Let Impromptu Guru help you increase your confidence as a communicator and get you ready to meet your next public speaking challenge head-on.
let the guru help you
tackle your fear of public speaking
deliver presentations with confidence
captivate your audience
communicate effectively and efficiently
present your message in a way that delivers results
choose the guru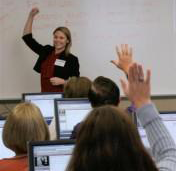 Whether it is through public speaking or mediated speaking coaching, corporate communication training, or individualized one-on-one communication consultations, Impromptu Guru provides solutions to your communication challenges.  With Impromptu Guru, you can get started on your path to gaining confidence and professionalism today!